Amazing Art Shuttle has conceptualized and curated two in-house exhibitions, 'Worlds from Within' at Arts House (2012) and 'Joyride' at National Library Board (2013), showcasing original works created by our students in our regular art classes. We also had the opportunity to tailor creative art workshops and activities according to the requests of our various clients, such as Affordable Art Fair Pte. Ltd, Singapore Art Museum, National Heritage Board, Housing Development Board, People's Association, Peek-a-Boo Playground and such.
In House Exhibitions (2012 & 2013)
[row][column width="1/3″]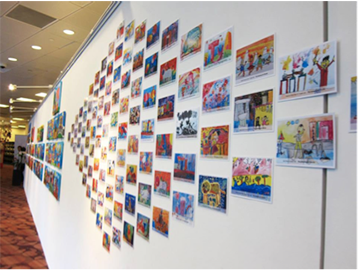 [/column][column width="2/3″]
May 2013 – 'Joyride'
National Library
This exhibition showcased our students' works, which were created and brainstormed in our weekly lessons. It was in collaboration with Student Advisory Centre, a children's charity, and supported by National Library Board, showcasing our students' interpretation of the word 'Joyride'. Art activities were held around the National Library such as brooch making and a collaborative mural.
[/column][/row]
[row][column width="2/3″]
May 2012 – 'Worlds from Within'
Arts House
This exhibition offered a glimpse into the inner worlds of our students. The canvases were a four week long project and the various interpretations of 200 works were exhibited at the end. This exhibition was a great experience and exposure for the children and they gained a wonderful sense of accomplishment through their hard work. This exhibition was also accompanied by art activities, promoting parent and child bonding
[/column][column width="1/3″]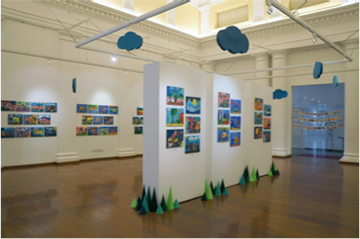 [/column][/row]